Gold, Silver, Bronze
Inspirational Clinical Support Worker of the Year
Celebrating those in clinical support roles, providing vital support services for patients and service users in health and social care settings.
Nomination form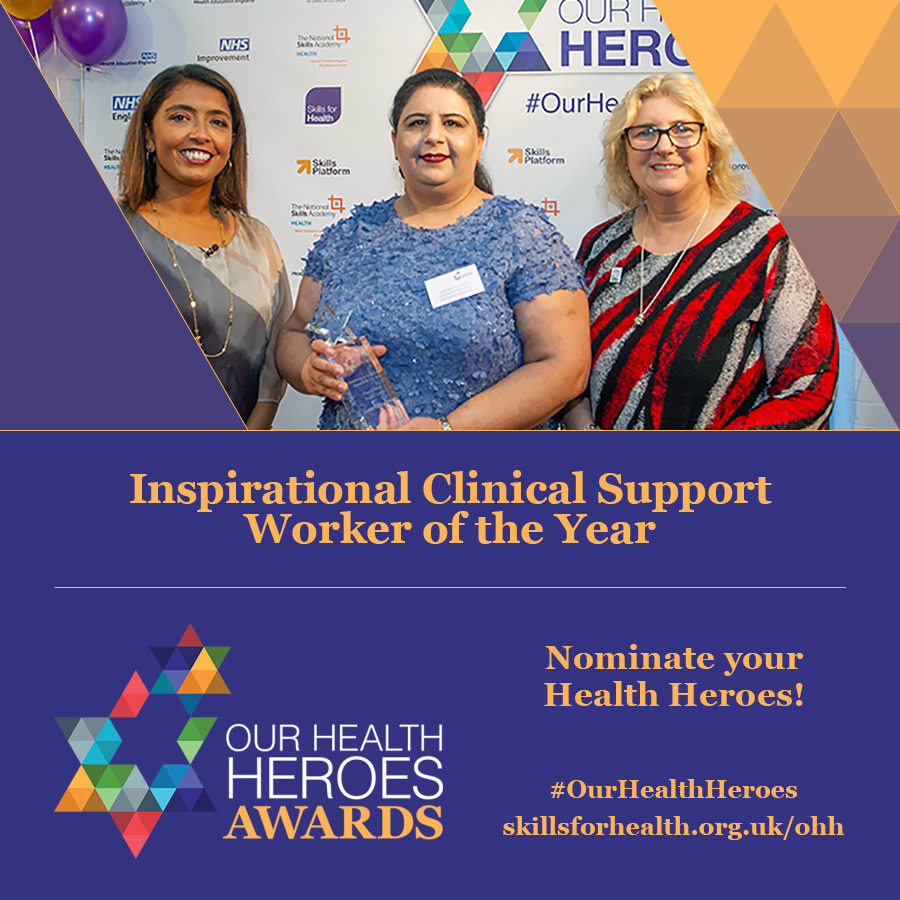 Who is eligible?
Clinical support workers play a crucial role in the delivery of exceptional care, without whom the health and social care sector simply couldn't exist.
This award is for Clinical Support Workers in health and care settings including but not limited to; healthcare assistants, maternity support workers, theatre support workers, physiotherapy assistants, podiatry assistants, dietetic assistants, orthotic and prosthetic technicians, OT support workers and many more who improve the experience of care.
These people have been on the frontline helping to care for the most vulnerable in society, many working in roles that often go unnoticed by the public but are inspirational to their colleagues. Anyone can make a nomination, including members of the public. Judges are looking for nominations that demonstrate:
Reliably working to high-quality standards to improve services and patient outcomes

Caring and compassionate approach to those who use services

Being an effective colleague – being part of the team, & proactively supporting the work of the team & others
Identifying and undertaking innovations in their place of work

Having a positive attitude and willingness to embrace innovation and improvement

Being a strong role model for the organisation and its ethos, particularly for other support staff
Start your nomination here
Complete the form on this page to make your nomination, which must include an overview of why you are nominating this person (no more than 500 words).
The nomination process takes approximately 10-15 minutes. You can click 'Save and continue later' at any time, at the bottom of the form, and provide your email address to receive a link to complete your nomination at a later date.
Alternatively you can download the form here, complete it and email it to OHHAwards@skillsforhealth.org.uk
As part of the nomination, we ask for some simple information about you, such as your name, job title and contact details. This is so we can let you know if your nominee is successful in winning an award.
If you have any questions about what's involved in the nomination process, please email OHHAwards@skillsforhealth.org.uk
---
Latest Our Health Heroes Insights
All the latest news, winners, nominees and press releases about the Our Health Heroes Awards, by Skills for Health.
Downloads and useful resources