One Award Winner
Most Promising OD & People Programme
This award will be presented to an organisation that has shown a commitment to deliver on the ambitions of the NHS People Plan and demonstrate a clear people & OD strategy to enhance workforce outcomes.
Nomination form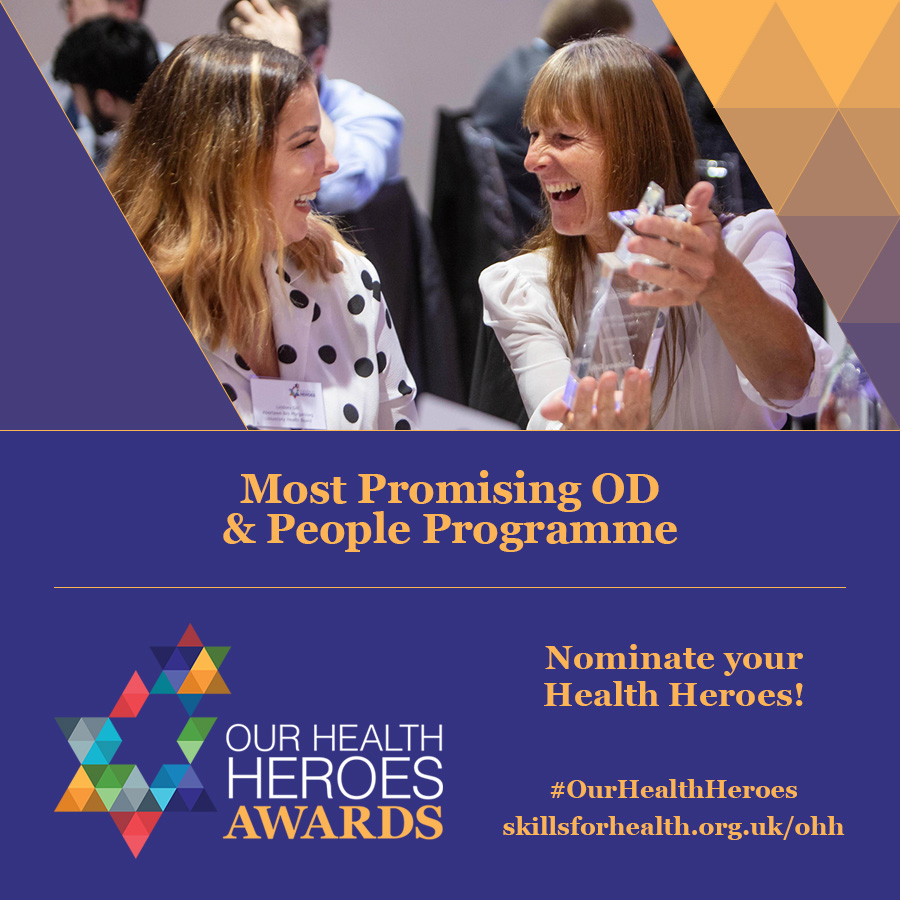 Who is eligible?
A focus on People and Organisational Development is crucial for all employers and is a key ambition in the NHS People Plan 2020/21. This award raises awareness of the outstanding initiatives organisations have begun to develop to ensure their people are well cared for, and workforce development supports all types of skills needs for staff.
Nominations are based on those going above and beyond at an organisational or systemic level to implement their people strategies that will make a real difference to staff. Anyone can make a nomination, including members of the public.
Demonstrate a people & OD strategy/framework, and the implementation underpinned by policies and procedures 

Evidence the success of the strategy, for example, reduction in sickness and absence rates, improved staff satisfaction (evidenced by staff survey), reduction in staff turnover, internal recruitment etc. 

Describe how an identified challenge within the organisation in respect of people and organisational development was recognised, and describe how this was addressed
Evidence the impact of the programme by using data, to demonstrate the steps used to make a positive difference

Describe how the intervention(s) are/will be cost-effective and sustainable in the long term, and the metrics in place to measure this

Demonstrate a commitment to the NHS People Promise, of compassion and inclusivity, recognition and reward, making sure every voice counts, being safe and healthy, always learning, working flexibly, and always being a team.
Start your nomination here
Complete the form on this page to make your nomination, which must include an overview of why you are nominating this person (no more than 500 words).
The nomination process takes approximately 10-15 minutes. You can click 'Save and continue later' at any time, at the bottom of the form, and provide your email address to receive a link to complete your nomination at a later date.
Alternatively you can download the form here, complete it and email it to OHHAwards@skillsforhealth.org.uk
As part of the nomination, we ask for some simple information about you, such as your name, job title and contact details. This is so we can let you know if your nominee is successful in winning an award.
If you have any questions about what's involved in the nomination process, please email OHHAwards@skillsforhealth.org.uk
---
Latest Our Health Heroes Insights
All the latest news, winners, nominees and press releases about the Our Health Heroes Awards, by Skills for Health.
Downloads and useful resources